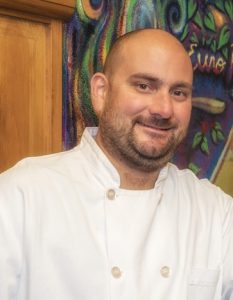 Vincent W. Monarca, also known as "Vinny", has been in the kitchen cooking with his Sicilian grandparents since he was old enough to grate cheese and knead dough. Vinny's father and grandparents moved from Sicily to Hartford, CT, where they continued in the practice of sustainable production of food grown on the farm- from growing their own tomatoes to canning them as tomato sauce. Vinny continued his informal training throughout his high school years while cooking and waiting tables at a restaurant managed by his Aunt Philomena in Connecticut.
Vinny's passion for food and cooking led him to get a culinary degree from Johnson and Wales in Providence, Rhode Island. After graduating in 1992, Vinny moved to the beautiful mountains of Summit County. Vincent was fortunate to find a sous chef position at Ski Tip Lodge in Keystone, where he was able to cultivate his fine dining skills. He has also run kitchens in several other high quality restaurants over the years. In 2000, Vinny decided to try his hand at preparing healthier cuisine at Alpine Natural Foods in Frisco. He was the chef in charge of the deli and catering there for 7 years. People from all over came year after year to sample his unique vegetarian food.
Vinny has created quite a reputation around the county for preparing creative, delicious food using the highest quality ingredients possible. This reputation led Vinny to finally pursue his dream of opening his own restaurant and making excellent food for his community and tourists alike.

Vinny enjoys hiking, biking,  and skiing. He is very passionate about his restaurant and strives every day to bring the best food, service, and camaraderie of locals and tourists alike in a place that is home to him and the rest of the Vinny's family.
The "Family" that Vinny refers to are not only actual family and long-time friends and members of the community, they are the individuals who daily give of themselves to personal aspiration as well as to the objective of Vinny's.  Each person is here because we want to be here.  We live in Summit County because it's a great place to live.  And although there are plenty of restaurants around here, this is the place we want to spend our time and energy.